Famous temples in Jaipur: Birla Temple, Galtaji Temple, Govind Dev Ji Temple, Moti Dungi Temple.
Temples in Jaipur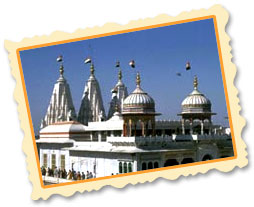 Jaipur, the capital of the state of Rajasthan, was founded on 18 November 1727, by Raja Sawai Singh II. It is one of the planned cities of India and is a principal tourist destination. It is filled with ancient forts and monuments that boast of its glorious past. A large number of temples and other religious places reflect the spiritual value of the dynasties of the past, who built them. Apart from the forts and temples, a good number of gardens also enhance the effervescent beauty of Jaipur.
The presence of numerous temples has yielded Jaipur the nickname, 'Chhoti Kashi' or 'Mini Kashi'. Some of the prominent temples in Jaipur are Govind Dev Ji, Birla Temple, Shila Devi Temple, Galtaji, Jagat Shrimoni Temple and Shri Kali Temple. These temples echo the magnificence of the Rajput rulers who once governed the city of Jaipur. Every year, Jaipur attracts visitors from all over the country and world. The splendid architecture of these temples is simply awe-inspiring and their religious significance is worth a visit. Each of the temples is unique in its own way. No wonder then people of all castes and races visit this city to get a glimpse of its temples and return home with fond memories of the architecture and the legends thereto.
Galtaji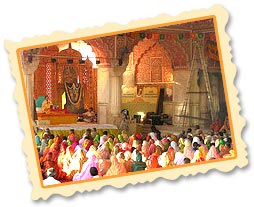 A pre-historic Hindu pilgrimage site, the Galtaji Temple, is located only 10km away from Jaipur. One of the jewels of Jaipur, the temple complex encompasses natural fresh water springs and 7 holy 'kunds' or water tanks. Among these kunds, the 'Galta Kund', is the holiest one and is believed to never get dry.
Birla Temple
The Birla Temple, originally known as Lakshmi Narayan Temple, and is situated below the Moti Dungri Fort in Jaipur. Dedicated to Lord Vishnu and Goddess Lakshmi, this temple is a proud architectural landmark of Jaipur. Built in pure white marble, the Birla Temple is unlike the traditional ancient Hindu temples, and is built with a modern approach.
Govind Dev Ji Temple
The temple of Govind Dev Ji is one of the most sacred and famous tourist destinations in India. It is located in the City Palace complex, in Jaipur, Rajasthan. The deity, Govind Dev Ji, is none other than Lord Shri Krishna himself. It is believed that the image in this temple looks exactly how Lord Krishna looked during his incarnation on earth.
Moti Dungri
The Moti Dungri Ganesh Temple was constructed by Seth Jai Ram Paliwal in the early eighteenth century, and continues to be one the most popular tourist destinations in Jaipur. Situated in the heart of Jaipur, the Moti Dungri temple is perched on a small hill, and is surrounded by an exotic palace. In the recent past,