Jaipur is famous for its handicrafts, artwork and sculptures. Find out where to buy handicrafts in Jaipur.
Handicrafts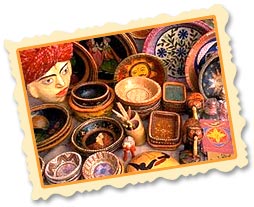 For all shopaholics, Jaipur is the perfect destination; a haven actually. The splendid city of Jaipur takes pride in its remarkable handiworks that preserve its ancient art and crafts, which are renowned worldwide. This hub of vibrant commercial handicrafts, colourful culture, invites skilled craftsmen and artisans from India, as well as, abroad. Some of their famous artistic creations include metal-works, woodworks, blue pottery, stone-carvings and leather ware. Apart from these, Jaipur has an exclusive range of gorgeous textiles, elegant jewellery and exquisite paintings, that display royal and magnificent artworks. Tourists from all over the world, flock the bazaars and markets of this city to explore the decorative collection of handicrafts in Jaipur, especially at Amer Road, M.I. Road, Bapu Bazaar and Jauhari Bazaar. Connoisseurs of art, Jaipur's local artisans, carefully compose unique arrays of designs that are rich in Indian art. Read further to learn about Jaipur's brilliant collection of handicrafts.
Jaipur Jewellery
Lac jewellery is originally made in Jaipur. These ethnic handicrafts are finely designed by the local skilled craftsmen of Jaipur. Lac jewellery is a rural jewellery art, made by ancient techniques, passed down from generations.
Jaipur's enthralling collection of metal jewellery, beautifully textured and comprising of many colours, shapes and sizes are simply a great work of art.
Oxidized jewellery fashioned by expert craftsmen, are studded with exclusive mirror-work, and colourful beads. The jewellery is oxidized to specific requirements, to retain the colour and shine of the metal. Oxidization of jewellery creates an antique look and a smoky appearance of the metal.
The silver jewellery of Jaipur comes in an ethnic style, and is studded with semi-precious stones of vibrant colours.
Thewa jewellery, a closely guarded, ancient secret for some families, is an exquisite art form that involves complex treatment and fusion of glass with precious metals like gold and silver.
Jaipur Textiles
Jaipur handicrafts include cushion covers that come in a variety of eye-capturing designs. Some of the types include embroidered cushions, patch-work cushions, block-printed cushions and velvet cushions that are perfect for day-to-day as well as occasional use.
A vast range of bags, fashioned in patchwork, mirror-work, antique-beads, brocade and embroidery are available at Jaipur. Jaipur bags are made from excellent quality fabrics, and are presented in captivating styles.
Unique Indian quilts are made from top quality cloths, and are patterned with exceptional embroidery work. These quilts are light-weight, comfortable to touch, and provide cozy warmth to the user.
Bandhej, or Baandhini, is a type of tie-dye material, which is a very popular textile, among the many Jaipur handicrafts. Dots, waves, squares and strips are common designs in Bandhej. Natural and artificial colours are used in making these patterns which involve a lot of intricate knots post which the fabric is dyed. Hence the name, tie-n-dye.
Jaipur Paintings
Jaipur's miniature paintings featuring stunning Rajasthani women, Radha-Krishna, Rajput and Mughal kings are just a few of the many artworks of Jaipur artists. The paintings are made using natural colours derived from insects, minerals, vegetables, shells. The final products are decorated with powders of semi-precious stones and precious metals like gold and silver. The beauty of Jaipur miniature paintings is that, the colours of the paintings do not fade away with time.
The handicrafts of Jaipur are always in high demand. These impressive ethnic styles and handicrafts are so enticing that tourists, from all over the world, come to visit this royal city. Discover the various kinds of fabulous art and handiworks of Jaipur, with these tips.