City Palace was built by Raja Man Singh during 1729-1732 AD, in Jaipur. Check out detailed information on history, architecture, and visiting hours of City Palace.
City Palace, Jaipur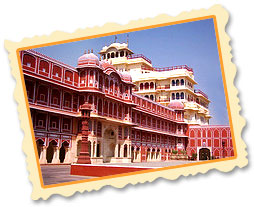 Located in the heart of the Pink City Jaipur, the City Palace was where the Maharaja reigned from. This palace also includes the famous 'Chandra Mahal' and 'Mubarak Mahal', and other buildings which form a part of the palace complex. The palace is located towards the northeast side of central Jaipur and has many courtyards and buildings. The palace was built between 1729 and 1732 AD by Sawai Jai Singh II. He ruled in Amer and planned and built the outer walls of the palace and later rulers added to the architecture of this palace. These additions have been known to take place right up to the 20th century. The urban layout of the city of Jaipur was commissioned to Vidyadhar Bhattacharya and Sir Samuel Swinton Jacob. The architectural styles are largely based on a fusion of Rajput, Mughal and European styles. Today, the 'Chandra Mahal' has been turned into a museum which is home to unique handcrafted products, various uniforms of the rulers and many more things pertaining to the royal heritage of the City Palace.
History Of City Palace
Maharaja Sawai Jai Singh II is known to have commissioned work for building the outer wall of the city's complex. He shifted from Amer to Jaipur due to water problems and an increase in population in 1727. He had entrusted the city's architectural design to the chief architect Vidyadhar Bhattacharya. The architect went on to design the City Palace in accordance with the Vaastushastra texts.
Architectural Layout
The City Palace reflects Rajput, Mughal and European architectural styles although the palace was designed to Vaastushastra treatise. Some of the famous gates are the 'Udai Pol', 'Jaleb Chowk', 'Tripolia Gate' and 'Virendra Pol', which also happen to be the various entrances to the palace. These are all richly decorated. The Palace has been designed according to a 'grid style' and houses various structures such as, 'Chandra Mahal', 'Mubarak Mahal', 'Diwan-I-Khas' and the 'Govind Dev Ji Temple. The walls and gates are ornately designed to Mughal style, with various murals, lattice and mirrors adorning them from sides.
Nearby Tourist Attractions
Hawa Mahal
Jal Mahal
Government Central Museum
Jantar Mantar
Vidhyadhar's Garden
The City Palace is a landmark in Jaipur and is also a very popular tourist hotspot. Apart from the regal architecture, the palace offers a stunning view of the Pink City and also an insight into the rich heritage of a bygone era. The City Palace is a must-see while sightseeing in Jaipur.