List of leading hospitals in Jaipur along with their address and phone numbers.
Hospitals in Jaipur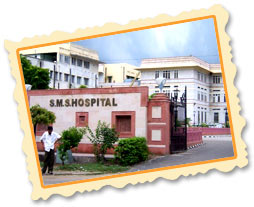 Jaipur, the pink city is one of the most popular tourist destinations India and is equipped with advanced health care facilities and services. There are various hospitals which abound the pink city. These hospitals are well maintained and are equipped with latest technology machines for providing the best services to the people such as medical, OPD, diagnostic, dispensing and consultancy. Furthermore, there is the facility of 24 hours emergency service in the hospitals. There are around 40 hospitals in the city which are well known for their medical aid and other facilities and, are also well organized with the staff and transportation. The city includes both the types of hospitals government as well as private. In the government hospitals, the treatment and the medicines are provided on the reasonable rates whereas in the private hospitals, the medical service provided is fairly expensive. In addition to this, there are various multispecialty hospitals also; there is a renowned government cancer hospital known as Bhagwan Mahaveer Cancer Hospital and Research Centre. Read to know more about the hospitals in Jaipur.
Here is the list of some of the leading hospitals of Jaipur.
Bhagwan Mahaveer Cancer Hospital and Research Centre,
Jawahar Lal Nehru Marg, Jaipur - 302 017
Tel :+( 91)-(141) - 270 0107, 270 2106
Fax :+( 91)-(141) - 270 2021
http://www.bmchrc.org/
Jaipur Dental Hospital
24, Ganga Path, Suraj Nagar (west), Civil Lines, Jaipur - 302 006
Tel :+( 91)-(141) - 265 6511, 506 1001
http://jaipurdentalhospital.com
Meera Dental Hospital
B-13, 'Kartavya', Shiv Marg, Bani Park, Jaipur - 302 016
Tel :+( 91)-(141) - 220 2220, 220 2748
Fax :+( 91)-(141) - 220 1261
http://www.meeradentalhospital.com/
Jaipur Calgary Eye Hospital
Malviya Nagar, Jaipur - 302 017
Tel :+( 91)-(141) - 252 1384, 252 1839
http://jaipurcalgaryeyehospital.org/
Jain Eye Hospital
K-4-A, Fatehtiba, Moti Doongri Road, Adarsh Nagar, Jaipur - 302 004
Tel :+( 91)-(141) - 261 8051, 261 1211
Fax :+( 91)-(141) - 260 8887
http://www.mrj-jaineye.com
Soni Hospital
38- Kanota Bagh J.L.N. Marg, Jaipur - 302 004
Tel :+( 91)-(141) - 257 1122, 257 1123
Fax :+( 91)-(141) - 256 4392
http://www.sonihospitals.com
Nims Hospital
Jaipur- Delhi National Highway, Shobha Nagar, Jaipur - 303 001
Tel :+( 91)-(141) - 623 1631, 623 1632
Malpani Multispecialty Hospital
S.P. 6, Road No. 1 V.K.I. Area, Sikar Road, Jaipur - 302 013
Tel :+( 91)-(141) - 226 1315, 233 4612
Monilek Hospital & Research Centre
Jawahar Nagar, Sector 4, Jaipur - 302 004
Tel :+( 91)-(141) - 265 3021, 265 1393
Fax :+( 91)-(141) - 265 2181
http://www.monilekhospital.com/
Pandya Hospital & Research Centre
J-2/37, Mahaveer Marg, C-Scheme, Jaipur - 302 001
Tel :+( 91)-(141) - 237 0209, 237 7729
http://www.pandyahospital.com
Railway Hospital
GanpatiNagar, Hasanpura Road, Jaipur - 302 001
Tel :+( 91)-(141) - 222 3735
Sahai Hospital & Research Centre
15, Bhabha Marg Moti Dungri, Jaipur - 302 004
Tel :+( 91)-(141) - 262 1888, 262 1444
Fax :+( 91)-(141) - 262 3336
http://www.sahaihospital.com/
Sukh Sagar Hospital
10, Shopping Centre, Amba Bari, Jaipur - 302 023
Tel :+( 91)-(141) - 233 7817
http://www.sukhsagarhospital.com
Baheti Hospital
14, Usha Colony, Malviya Nagar Main Road, Jaipur - 302 017
Tel :+( 91)-(141) - 275 4049, 275 4408
http://www.baheti-ivf.com
Imperial Hospital & Research Centre
Kanwatia Circle, Shastri Nagar, Jaipur - 302 016
Tel :+( 91)-(141) - 230 4592, 230 7984
Fax :+( 91)-(141) - 230 4592
http://www.imperialhospitalindia.com
Khandaka Hospital
160-161, Kailash Puri, Tonk Road, Jaipur - 302 018
Tel :+( 91)-(141) - 254 8211, 272 2922
http://www.khandaka-hospital.com/
Fortis Escorts Hopsital
Jawahar Lal Nehru Marg Malviya Nagar, Jaipur - 302 107
Tel :+( 91)-(141) - 254 7000
http://www.fortishealthcare.com/
Shubh Hospital
A-35, Vidhyut Nagar Crossing
Main Ajmer Road, Jaipur - 302 019
Tel :+( 91)-(141) - 235 7223, 235 1529
Fax :+( 91)-(141) - 224 5987
http://shubhhospital.com
Child Care Hospital
M.D. Road, Jaipur - 302004
Tel :+( 91)-(141) - 2660080
City Hospital
93, Doctors Colony, Near DCM, Amer Road
Jaipur - 302006
Tel :+( 91)-(141) - 2355695