Jaipur, the royal pink city of Rajasthan is a cultural hub of India. This city reflects its richness in its art, architecture, culture and cuisine. Have a look to know more about this culturally affluent city.
Jaipur Culture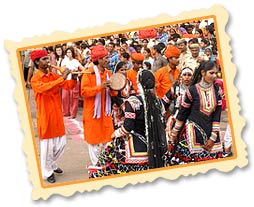 Located in the eastern Rajasthan, this city of Jaipur is popular of the amazing forts and stupendous palaces. This royal town has magnificent architecture and is the first planned city of India. The buildings here are made with pink-painted sandstone which brings it the name of Pink City. With fantastic attractions all around the city, it invites tourists from all over the world. Jaipur's rich cultural heritage is displayed in the traditions, customs, lifestyle, art and architecture of this place. In fact the best understanding of Jaipur's culture can be attained through its art, music and architecture. The splendid monuments of Jaipur deserve a visit. Those huge fortresses of Mughal and Rajput reigns, the Hawa Mahal, Amber Fort, Jal Mahal aptly describe the culture of the city. Jantar Mantar of Jaipur, the largest of all five similar monuments is an observatory basically, which is indeed an architectural spectacle.
The people of this lively town are friendly and warm. Their colourful outfits and unique jewellery are the part of their culture displayed in a flamboyant way. They love to dance to the tunes of Rajasthani folk songs. Famous dances of Jaipur include Ghoomar, Chari where the dancers got to dance on a pot with a lit diya on their head. Traditional instruments like Sarangi, Ektara, and Jhalar are also played while singing folk songs. Food or the local delicacies of Jaipur also reveal the culture of the city. Jaipur's utterly delicious mangodi, papad, khichdi, buttermilk, sohan halwa have no match. Also famous for its handicrafts, Jaipur has markets flooded with handicraft items. Carved silver jewellery, kundan as well as meenakari jewellery, ivory carved sculptures, wood work and leather goods, are all so finely made that they would undoubtedly catch your eye. Known for blue pottery, miniature paintings and traditional clothes with work of bandhni, zari and zardosi, are certainly the best examples that depict rich culture of Jaipur.
Art And Crafts
The Mughal and Rajput rulers used to invite skilled artists and craftsmen from India and abroad to display and share their abilities with the people of Jaipur. Many of them settled here leading to development of Jaipur as the haven of rich art and culture. Some of the artful talents of artisans include: Bandhani; Block printing; Stone carving and Sculpture; Tarkashi; Zari, Gota, Kinari and Zardozi; Silver Jewellery; Gems, Kundan, Meenakari and Jewellery; Miniature paintings; Blue Pottery; Ivory carving; Shellac work; Leather ware, etc.
Performing Arts
This land of Jaipur has its own performing arts. The Jaipur Gharana for Kathak is widely popular and apparently an example of rich cultural heritage of Jaipur as far as performing arts is concerned. Tamasha is another such example.
Cuisine
The pink city Jaipur presents to you scrumptious cuisines that are known throughout India; dishes like Dal Bati Churma, Missi Roti, and sweets like Ghevar, Feeni, Gajak, Chauguni ke laddu, Moong Thal, to name a few. Rajasthani cuisine is full of nutrition since it's made in ghee and butter; and is generally vegetarian.
Fairs And Festivals
This city witnesses various fairs and festivals at different time of the year. Some of the festivals are Gangaur festival, Jaipur Literature festival, Kite festival, Teej festival, Shitla Mata Fair, Chaksu Fair, Elephant Fair, Chhat ka Mela in Amber during Navratri. The colourful city becomes even more lively and lovely.
People and Languages
The people of Jaipur are friendly and warm. The colourful outfits and ethnic jewellery they sport are the part of our culture exhibited in a beautiful way. They love to perform folk dances to the tunes of Rajasthani folk songs. The main language of Jaipur is Rajasthani. However, Marwari, Hindi and English are also spoken in the city.
The culture of Jaipur facilitates us with a holistic view of not only Rajasthan but also with the culture of India.