Getting to Jaipur by air, train, road.
How To Reach Jaipur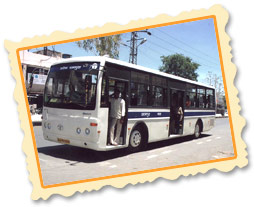 People from all parts of the world come to observe the beauty and to know about cultural legacy of Jaipur. Being the major city of the country, Jaipur is well connected to almost every corner of India via different means of public transport including air, rail and road. Every day the public transport is used by over millions of travellers travelling to and around Jaipur with various purposes and destinations. Jaipur International Airport is located about 7-10 km from the main city and can easily be reached with ease by taxi or bus. The Indian Railways on the other hand provides the best service to the passengers and as for the bus service, the roads and the highways are very well constructed and smooth with less chances of getting any dump in between the way. Read to know more about how to reach Jaipur.
By Air
The Jaipur Airport is situated at Sanganer, 7 km (domestic terminal) and 10 km (international terminal) from the main city. It connects the city to all the major parts of India as well as some of the major overseas countries. It has the facility of daily domestic flights to Delhi, Jodhpur, Udaipur, Aurangabad, Hyderabad, Goa, Kolkata, Chennai, Ahmedabad, Mumbai, Bangalore, Indore and Pune. Also, it has the facility of international flights through which it connects directly to Sharjah, Muscat and Dubai. Flights to Singapore and Bangkok are also available via Delhi. Furthermore, it offers the chartered service to London and Dublin. Once you get down at the airport, hire a taxi or take a bus to reach the main city.
By Train
Jaipur is well connected to almost every part of India through the means of Indian Railways. There are several trains which connect this city to Delhi, Mumbai, Ahmedabad, Agra, Kota, Alwar, Jodhpur, Alwar, Ajmer, Kota, Chittorgarh, Bikaner, Udaipur, Barmer, Jammu, Bikaner, Jaisalmer, Kolkata, Ludhiana, Pathankot, Haridwar, Indore, Gwalior, Bhopal, Jabalpur, Roorkee, and Kanpur. In addition to this, long-distance trains arrives from several other cities including Patna, Ranchi, Lucknow, Allahabad, Vadodara, Banaras, Surat, Bilaspur, Nagpur, Raipur, Puri, Bhubaneswar, Bangalore, Chennai, Hyderabad, Mysore, Mangalore, Goa, Kochi, and Kozhikode. There are three main railway junctions including Jaipur, the main station; Gandhinagar and Durgapara. Every train stops at Jaipur junction and a few of the trains stop at Gandhinagar and Durgapara. After getting down at the railway station, take an auto-rickshaw, bus or hire a taxi to reach the destination within the city. There is a special, luxurious and renowned train called as Palace on Wheels which departs from Delhi and connects all the well known destinations of Rajasthan including Jaipur, Jhalawar, Jodhpur, Alwar, Udaipur, etc.
By Road
Jaipur, the pink city is linked with the all the major cities of India through the network of National Highways 8, 11 and 12 to name a few. There's also a very good bus service between Jaipur and Delhi provided by Rajasthan State Road Transport Corporation (RSRTC) with the buses at about every half an hour to and from both sides. There are non-AC and AC Volvo buses in which the fare of the AC bus is more. From Jaipur you can board the bus from Narayan Singh Circle or the main Sindhi Camp bus stand whereas in Delhi you can take the bus from Bikaner House on Pandara Road which is next to India Gate. Also, there are some private buses which are available from Dhaula Kuan in Delhi. There are some express buses which connect various cities and towns of Rajasthan such as Bundi, Kota, etc. to Jaipur. This city is also connected to Mumbai via Ajmer, Ahmedabad, Udaipur and Vadodara and is also well linked to Agra via bus.