Ranthambore National Park figures in the list of largest national parks in India. Check out for more information on Ranthambore National Park in the following article.
Ranthambore National Park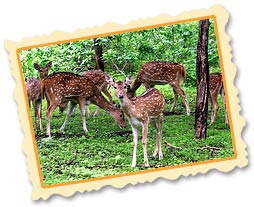 Spread across an area of 392 sq kms, Ranthambore National Park is situated in the Sawai Madhopur district of Rajasthan. It is one of the largest and famous National Parks in India. Once known as the hunting base for Maharajas of Jaipur, Ranthambore National Park today is a major tourist destination. Ranthambore National Park is very famous for its tiger population. Tigers are often seen during the day, going about their regular chores. This national park is flanked by two sanctuaries namely Kaila Devi Sanctuary and the Mansingh Sanctuary. The park is also considered as a heritage site and has been home to many species of plants, reptiles and birds. It is also a place where some of the largest banyan trees in India are found. This national park has several lakes within its premises. The park draws lot of wildlife enthusiasts and photographers from all over the world.
National Park Ranthambore

History
Ranthambore National Park was first founded as the Sawai Madhopur Game Sanctuary by the Government of India in 1955. However, in 1973, it was pronounced as one of the 'Project Tiger' reserves in India and, in 1980 it was made a National Park. Later, in 1991, the adjoining Keladevi Sanctuary and Sawai Man Singh Sanctuary became part of the Ranthambore National Park. Today, it is one of the biggest national parks in India. This park was named after the ancient Ranthambhore fortress and is flanked by Banas River in the north and Chambal River in the south.
The Highlights Of The Place
The park is well known for tigers. There are Wildlife Safaris and Jeep Safaris to tour the Park and watch wild animals in their natural habitats, and that too from a close range. The Jeep safaris take about three and half hour to tour the entire park. Other than the majestic tigers, visitors also get to see leopards, deer, hyenas, crocodiles, boars, mongooses, jackals, gazelles etc.
How To Reach
By Air:
Jaipur is the nearest airport for Ranthambore National Park. The Park is located just 180 km away from Jaipur city. One can hire cabs or avail bus services to reach the park.
By Rail:
The nearest major railway station is Sawai Madhopur which is well connected to other major cities across India. One can hire a cab or avail the frequent private/public bus services from Sawai Madhopur to reach Ranthambore National Park.
By Road:
Ranthambore National Park is located just 11 km away from Sawai Madhopur and plenty of buses ply between Sawai Madhopur and the park. You can also hire cabs or taxis from Sawai Madhopur to reach your destination.
Best Time To Visit
Although the park remains open between the months of October and June, the best time to visit Ranthambore National park is between December and April when the weather is pleasant. The park remains opens from 6:00 AM to 6:00 PM.
Ranthambore National Park is a dream tour destination for all wildlife enthusiasts and adventurous people. The park offers impressive spectacle of various exotic plant and animal species, particularly the tigers in their natural habitat.