A small village in Rajastan, Bagru has a permanent place on the tourism map of Rajasthan with its unique wooden or blocks printing. Know more about Bagru and the block printing that it is famous for.
Bagru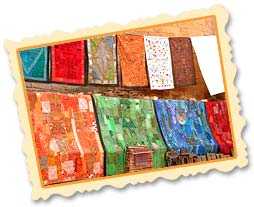 Bagru is a small village in Rajastan on Jaipur-Ajmer road located at a distance of 35 kilometers from Jaipur. It's not for any palace or fort that Bagru is popular; it is the classic wooden block printing of Bagru which is considered unparalleled. The prints which are popularly known as 'Bagru Prints' make the village a crafts centre well known in Jaipur and in surrounding areas. These unique wooden printing techniques employ wooden blocks where the design is first engraved on the block which is further used to replicate the design on the preferred fabric. Apart from this, Bagru craft is also famous for its ecological consciousness and the use of traditional dyes. The brilliance of this age old craft, which is kept alive by the natives, makes Bagru a perfect tourist destination for those people who are crazy about textile printing. Read on to know more about Bagru and the textile printing that it is famous for.
Highlights
Bagru is popular for block or wooden printing. Commonly known as 'Bagru Prints', creating these designs involves an exclusive technique in which the preferred design is carved on a wooden block which is further used to reproduce the same design on the preferred fabric. The print patterns are known by the name, 'ajrakh'. The origin of this traditional craft can be dated back to three hundred years, thanks to the efforts of Chippa Mohalla, the craftsmen of Bagru who preserved it to avoid its untimely death. A walk along this specific area of the village would take you to almost three dozen families who work on this unique type of printing with blocks and dyes. These craftsmen, following the original tradition, wipe the cloth with fuller's earth and immerse it in turmeric water to provide the cloth with the customary cream colour. Following this, various designs are embossed on the fabric, with the help of natural dyes.
It is said that these people use simple and eco-friendly tools along with turmeric and natural and vegetable dyes to print the cloth. The craftsmen make blue colour from indigo, red colour from madder root, green from indigo mixed with pomegranate juice and yellow from turmeric. Excellent bed covers and other materials are manufactured by these villagers.
How To Reach
Bagru is a small village located 35 kilometers south west of Jaipur on the Jaipur-Ajmer road, NH8. There are frequent buses plying between Bagru and Jaipur that can be availed or you can hire a taxi from Jaipur to Bagru. The closest airport to Bagru is the Sanganeer Airport, Jaipur. Bagru is well connected by rail as Jaipur railway station is approximately 30-34 kilometers away. Another alternative is a small railway station namely Durgapura which is approximately the same distance from Bagru.
The Best Time To Visit
The cool months of October to March are the best time to visit Bagru in Rajasthan.
Bagru prints have already marked their name in the fashion industry. For those who are crazy about textile printing or wooden or block printing, this craft centre is one which is worth exploring.