The city of Jaipur, is known worldwide for its carpets and fabrics. Find out where to buy carpets and rugs in Jaipur.
Carpets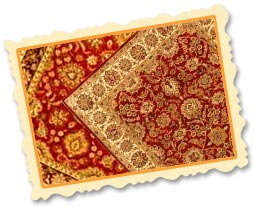 The magnificent city of Jaipur is famous for its vibrant and artistically woven fabrics and carpets. Since ages, this city has offered the best traditional designs, and the fabrics are the best in the world. The art of the colorful province of Rajasthan, finds expression through the fabrics of Jaipur. The colorful fabrics have fascinated people all across the world and tourists make it a point to visit Jaipur and its markets looking for these very authentic and classic items. There are numerous carpet centers in Jaipur and most of them undertake exports worldwide. 'Kishanpol Bazaar', 'Haldiyon Ka Rasta', 'Maniharon Ka Rasta', 'M.I. Road', 'Jauhari Bazaar', 'Bapu Bazaar' and 'Nehru Bazaar' display a wide range of stunning and beautiful fabrics, carpets, metal works, handicrafts, etc. A visit to Jaipur is never complete without some shopping from these markets. There is no other city or place in India which can offer textiles more exotic than the ones found in Jaipur. These vibrant and flamboyant textile works and carpets reflect the rich culture and tradition of Rajasthan.
Jaipur Carpets
Carpet weaving was initially introduced by the Mughal Emperor Akbar. Now, the innovations in designs of the carpets in Jaipur are beyond comparison and there is a wide variety of carpets made of wool, silk, jute and several synthetic fibers.
The Persian print rugs or carpets are the most remarkable. The designs and prints are inspired by Persian art and culture.
'Namdas' are carpets made of wool which are usually white in color. They are very soft and richly embroidered.
Another type of rug is 'jajam'. 'Jajams' are small carpets or mats meant for seating.
Carpets made of cotton are commonly known as 'dhurries'. These are the most popular in the category of carpets as they are easy to maintain and are liked by all.
Multi-colored carpets come in wide ranges of designs and patterns, which can go a long way in augmenting the beauty of your house. These carpets are available in various materials, sizes and styles.
Jaipur Fabrics
Jaipur is famous for producing the best quality of fabrics. The fabrics are bright, colorful and excel in quality. Block printing is a craft in Jaipur and is mainly done on hand-woven fabrics. The printing is done with the help of hand-crafted wooden blocks and mineral-based dyes. Famous textile products include sarees, kurtas, odhnis, dress materials and bandhej items. Tie and dye is a unique technique of dyeing fabrics in Rajasthan. Dyeing two sides of a cloth is also a famous technique in Jaipur. These textile products are a craze among domestic and foreign tourists alike.
The unique fabrics and carpets of Jaipur are renowned throughout the world. Jaipur is a city of rich heritage and artwork. These carpets and fabrics are a way of communicating this flamboyance of the Rajasthani culture. The fabrics, which include sarees and dress materials, have become a fashion-statement for the new generation.