Jantar Mantar is an astronomical observatory built by Raja Jai Singh II in 18th century. Check out detailed information on history, architecture, and visiting hours of Jantar Mantar.
Jantar Mantar Jaipur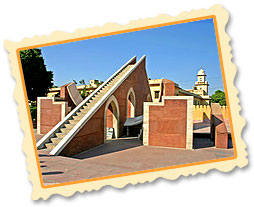 There are plenty of observatories all over the world, but the Jantar Mantar is considered to be one of the largest observatories ever built. Combining religion, science and art, the Jantar Mantar is the name given to a series of five, magnificent structures built in Jaipur, New Delhi, Ujjan, Varanasi and Mathura. Jaipur was the seat of Maharaja Jai Singh II during the 1720's and this is when this magnificent structure was built here. The Jantar Mantar in Jaipur is considered to be the largest of the five observatories and also houses the world's largest sundial. The Universe and the Cosmos have always been of interest to man, and it was this interest that compelled the Maharaja to build an astronomical observatory. The term 'Jantar Mantar' is derived from the Sanskrit terms 'Yantra' and 'Mantra' meaning 'instruments' and 'formula' respectively. The term 'Yantra' was replaced with 'Jantar' which means 'magical'. The Jantar Mantar houses various architectural and astrological instruments that have caught the interests of astronomers, historians and architects around the world.
History
Maharaja Jai Singh II, the founder of the 'pink city', was a great scholar and an avid astrologer. He studied philosophy, astrology, architecture and religion in various schools, and was also well versed with universal mathematical concepts such as Euclid's Clements, Ptolemy's Syntaxes and the Master works of Aryabhatta. In the year 1718, he wanted to construct an observatory of renown. For this, he studied the subject of astronomy and then built five different observatories around North India. At these places, he would sit with other scholarly astronomers, such as Pt. Kedarnath, for astronomical observations. The 'Jantar Mantar' at Jaipur, being the biggest conservatory in the country, was renovated time and again and houses various instruments that offer precise measurements of time, the azimuth, declination of the sun and the positions of constellations, along with several other astronomical phenomena. The Jaipur observatory was functional for seven years only, as the Maharaja was not very successful in deriving accurate, astronomical observations.
Architecture
The astronomical observatory consists of fourteen major geometric devices for measuring time, tracking constellations and, even for, observing the orbits around the sun. Popular structures within the Jantar Mantar are the 'Samrat Yantra' (the world's largest sundial), the 'Hindu Chhatri', the 'Jaiprakash Yantra' and various geometric structures with astronomical devices to probe the 'universe'.
Nearby Tourist Attractions
Jaipur City Palace
Jaigarh Fort
Galta Monkey Temple
The Jantar Mantar is a resplendent reminder of the royal heritage of Jaipur and stands as a royal testimony to a former epoch. The magnificent structure still manages to capture the attention of tourists and astronomy enthusiasts alike! The Jantar Mantar is an intriguing structure, and is a must-see in Jaipur!