Camel leather items are the charm of Jaipur. Find out where to buy leather items in Jaipur.
Camel Leather Items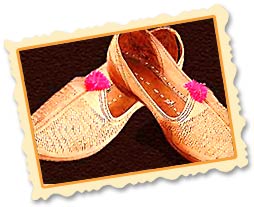 Jaipur is famous for its leather craft industries. Camel leather items like bags, shoes, wallets and sandals have gained international fame for their elegance and designs. You will find the best quality camel leather products in Jaipur. They are available in a large number or designs and styles, to suit everybody's needs. The leather works in Jaipur are a result of the combined efforts of dedicated men and women; while men are essentially involved in tanning, cutting and hemming, it is generally the women who do the embroidery. 'Bapu Bazar' in Jaipur is known for its camel leather items. Camel leather footwear and bags are very popular among foreign tourists. Apart from the crafts, fabrics and jewelry, Jaipur is a great destination for leather items shopping. Jaipur is known as the "Shopping Paradise" for it varied and extraordinary handiworks, leather products and textiles, which are distinctive of Rajasthan. Read on to know more.
Embroidery
Crafting designs on leather items is done by the women. Many households of Rajasthan and Jaipur depend on the business of making and selling leather products. While the men do the hard task of tanning the leather and then cutting and sewing it, the women do the delicate and intricate part, which is designing the leather with embroidery. In case of the Jaipur "Jutis" (shoes), the embroidery is first done on velvet, which is stitched or fixed on the shoes. This type of embroidery work is called "Kashida Kari".
The Quality And Design
Jaipur is the best place to buy camel leather products, both in terms of designs and quality. Camel leather is known for its durability and sturdiness. It has ten times more fibers than cowhide, which helps the animal protect itself in extreme climates. Since, Jaipur is located in the semi-desert lands of Rajasthan, camels are among the most common animals. Moreover, camel leather has a unique pattern which is extremely attractive. The artisans and designers of Jaipur have been making wonderful camel leather items since time immemorial. The 'Mojri' footwear is very common in Jaipur. It is made of soft camel leather and is designed and embroidered in a very artistic manner. Their traditional looks are not only sophisticated but also highly fashionable. Other leather items include shoes, bags, toys, wallets and even dolls. The artisans are in a continual effort of exploring the designs and styles to be employed.
Camel leather items can serve as great gift items. Jaipur offers you plenty of designs, patterns and styles of leather products. Beautiful lamps and lampshades are some latest additions to the list of camel leather products. Jaipur is the ultimate destination for shopping for camel leather products, both in terms of fashion and quality. When in Jaipur, do not forget to keep shopping as part of your itinerary, as this city is a bustling hub of bazaars which offer you a plethora of authentic and colourful goods.