The nightlife in Jaipur is as vibrant and exciting as any other metropolitan city. Check out the list of popular, pubs, bars and discotheques in Jaipur.
Jaipur Nightlife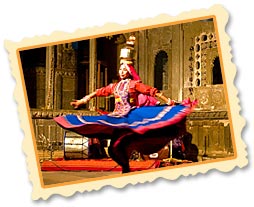 Jaipur, the Pink City and the capital city of Rajasthan has a vibrant and unique nightlife which is worth to experience. As the city goes into the lap of darkness, the streets start to glow with the lights which act a sign of things to come, or enjoy, rather. Here, you can enjoy shopping, dining, watching movies, dancing, drinking, etc. Also, you can attend music concert, watch puppet show, traditional dances, enjoy theatres, etc. There are bars and pubs in the city and every day after the sun sets, these bars with their vivid neon lights come alive to allure the nocturnal. Here, you can get to see people of different age groups coming together and having a ball. Dressed in the trendy and stylish apparels, these bunches can be seen enjoying the night life by dancing to their favourite tracks and by sharing the drinks with the friends
In addition to this, the nightlife of Jaipur gives you a chance to dance on national and international tunes in various discotheques. When it comes to the bars and pubs, the city has some of the very luxurious and royal bars and pubs which add spice to the nightlife in Jaipur. Apart from the discs and the pubs, you can enjoy exciting performances by the Puppeteers, Kalbelia Dancers, and Bhopa-Bhopi at Rajputana Palace Sheraton, listen to the music bands playing at Ram Niwas Bagh. The classic lovers too, here, will find their hands full. They can enjoy watching Indian classical plays and arts at Jawahar Kala Kendra and Ravindra Manch. Furthermore, you can enjoy watching late night latest movies at the city's famous cinema theatres. Thus, by visiting these popular night hangout places, you are sure to have a royal blast in this royal city of Jaipur.
Popular Cinema Theatres
Raj Mandir
B-16, Panch Batti,Bhagwan Das Rd, Jaipur
Laxmi Mandir
Tonk Phatak, Tonk Road, Tonk Phatak, Jaipur
Samrat Cinema
Char Darwaja, Gangapoi Chaukari, Jaipur
Ankur Cinema
Ghat Gate, Agra Road, Jaipur
Coral Cinema
Jawahar Circle, Malviya Nagar, Jaipur
First Cinema
Cityplex Building, 1, Tonk Road, Ashram Marg, Jaipur
Popular Discotheques In Jaipur
Amigos Bar & Discotheque
Church Road, M. I. Road | Hotel Om Tower, Jaipur
Extreme Discotheque
Subhalakshmi Tower, Central Spine, Vidhyadhar Nagar, Jaipur
Angara
F-23-D, Nr Apex Circle, Malviya NGR Indl Area, Malviya Nagar, Jaipur
Wavs
Inside Hotel Maharani Palace, Bridge, station road, Jaipur
Popular Pubs & Bars In Jaipur
Madhushala
Delhi Road, KK Royal Hotel & Convention Centre, Amer, Jaipur
Rang Mahal
Kanota Bagh, Narain Singh Road, Ashok Nagar, Jaipur
The Polo Club
Rambagh Palace, Bhawani Singh Road, Near Ashok Nagar, Jaipur
Maharani Express
Hotel Maharani Palace, Station Road, Jaipur
Hennry's -The Pub
Park Prime Hotel, Prithviraj road, Near Statue Circle, Jaipur
Bar Code - The Lunge bar
K.K. Square, C-11, Prithviraj Road, C-Scheme, Jaipur