Gangaur festival is celebrated in March-April in the honour of Goddess Parvati (Gauri).
Gangaur Festival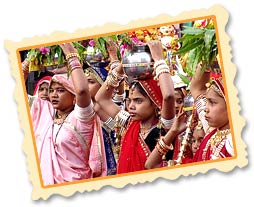 Gangaur is one of the most vivid festivals rejoiced with great enthusiasm and happiness all over the Indian state of Rajasthan. In the word Gangaur, 'Gan' is the synonym for Lord Shiva whereas 'Gaur' stands for Gauri or Goddess Parvati. But mainly, this festival is held in the honour of Goddess Parvati as she is regarded as the epitome of marital love, strength, courage, power and excellence. During the festivities, married women worship Goddess Parvati for the long life, well being and wealth of their husbands while the girls pray for getting a smart and an understanding life partner. The festival is rejoiced in the month of Chaitra, the first month of the Hindu calendar and falls in between March and April, according to Gregorian calendar. It begins on the very first day Chaitra month, the day after Holi and is celebrated for 18 days. Also, it marks the end of winter season and the coming of spring season.
Women and girls observe fast during this festive time and eat only once in a day. Images of Gauri and Isar (Lord Shiva) are made with the clay and decorated very beautifully. On the other hand, in some of the Rajput families, images are made of wood every year before the festival they are painted by the famous painters who are called as 'Matherans'. The images which are made during this time do not have canopies. Women and girls, during the festival, wear new dresses, adorn themselves with jewellery and make designs on their palms and feet by applying mehandi (henna). On the 7th day evening girls carry 'ghudilas', which are earthen pots with many holes inside which a lamp is lit, on their heads. They sing songs of Gangaur and are given gifts in the form of money, ghee, sweets, jaggery, etc. by the elders of the family as a token of love.
This ritual goes on for 10 days and on the last day women and girls break the pots and throw the broken pieces into a well or a tank; the clay idols made by the married women are also immersed in water on the last day of the festival. A grand procession is held which starts from the Zanani-Deodhi of the City Palace which then goes through Tripolia Bazaar, Chhoti Chaupar, Gangauri Bazaar, Chaugan Stadium and finally converges near the Talkatora. This procession is headed by a colourful show of elephants, old palanquins, chariots, bullock carts and performance folk artistes. People irrespective of their caste and creed come to observe and to be a part of the procession.