Information on what clothes to wear in Jaipur in different seasons.
What To Wear In Jaipur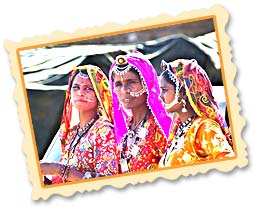 Jaipur, the capital city of Rajasthan is an ethnically lively city, a fusion of ancient traditions and modern way of life. Also, it portrays the legacy of the regal past. Though, the city has become a metropolitan city yet it holds customs and traditions pretty close to its chest. At the time of going to Jaipur, carry the right apparels which are suitable for the climate of the city. Though the dressing varies according to the different seasons but one thing should always be remembered that the attires should not be very much revealing or very short. This is because the people of Rajasthan still follow the true traditional culture. To the point, the temperature in summers exceeds upto 450 C and the climate is very hot in humid whereas in winters, the day time is very pleasant but the nights are very cold and the temperature goes down to 50 C. On the other hand, during the rainy season, there are thunderstorms and dust everywhere as the city receives less rainfall.
If you are planning to visit the Pink City in summers, then carry light coloured, loose cotton clothes which absorb sweat very easily. Avoid dark colours and skin fit clothes as they may cause irritation or any type of skin disease due to excess of scorching heat. Carry sunscreen lotions, hats and caps, and try to keep yourself hydrated all the times lest the heat gets to your head. Also, do not carry synthetic clothes during this time. However, keep a few heavy clothes as in the night time, temperature falls down and the weather becomes a bit chilly. In the winter season though, it is advised to carry light as well as heavy woollen clothing as in the day time, it is bright and sunny but in the night time it is cold, sometimes as low as 30 C The best time to visit Jaipur is in the winter season (October-March) when the weather is very pleasant and you can fully partake in the sightseeing without much ado.