List of luxury and budget accommodation options in Jaipur.
Jaipur Accommodation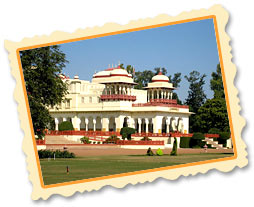 Jaipur has many hotels which offer the tourists with the modern amenities and warm welcome. The accommodation in Jaipur ranges from luxury hotels to budget hotels. Luxury hotels offer the visitors with the best services and complete lavishness and comfort. There are traditional hotels which provide the real aura of imperial palace and the guests are treated as if they belong to the royal family of Rajasthan. Besides this, there are economy hotels which are not very expensive and at the same time they provide good services to the visitors. Most of the luxury hotels and traditional hotels have been made by refurbishing the old palaces and havelis. The facilities provided by the hotels include standard rooms, swimming pool, doctor on call, high speed internet café and wireless connectivity, restaurant, bar, library, beauty parlour, shopping arcade, health club, laundry, rental car, etc. Below is a list of several hotels, luxury to budget; plan your stay accordingly and make prior reservations for a hassle free stay.
Luxury Hotels
Hotel Bella Casa,
1, Ashram Marg, Tonk Road Junction, Jaipur - 302018, Rajasthan (India)
Chokhi Dhani Resort,
iles, Tonk Road, Jaipur - 303905 Rajasthan (India)
Hotel Clarks Amer,
Post Box No. 222, J.L.N. Marg, Jaipur, Rajasthan (India)
Country Inn & Suites by Carlson Jaipur
Khasa Kothi Circle, M.I. Road, Jaipur - 302001 Rajasthan (India)
Hotel The Fern,
Plot No.3, Airport Plaza, Tonk Road, Jaipur - 302018, Rajasthan (India)
Hotel Golden Tulip,
Nirwan Marg, Bani Park, Jaipur- 302016, Rajasthan, (India)
Jai Mahal Palace
Jacob Road, Civil Lines, Jaipur - 302006, Rajasthan (India)
Hotel Jaipur Palace,
Tonk Road, Jaipur- 302015, Rajasthan, (India)
Hotel KK Royal Days,
Delhi Road, Amer, Jaipur - 303101, Rajasthan (India)
Le Meridien,
1RIICO Kukas, Jaipur - 303101, Rajasthan (India)
Hotel Mansingh,
Sansar Chandra Road, Jaipur - 302001, Rajasthan (India)
Hotel Paradise,
A-2, Metal Colony, Sikar Road, Jaipur, Rajasthan (India)
Hotel Ramada,
Govind Marg, Raja Park, Jaipur, Rajasthan (India)
ITC Rajputana,
Nr. Railway Station, Jaipur - 302006 Rajasthan (India)
The Rambagh Palace
Bhawani Singh Road, Jaipur - 302005, Rajasthan (India)
Shiv Vilas,
Village Kukas, Jaipur - 303101, Rajasthan (India)
Traditional Hotels
Khandela Haveli,
D-219 A, Bhaskar Marg, Bani Park, Jaipur - 302016, Rajasthan (India)
Khandwa Haveli,
Sikar Road, Ambabari, Jaipur, Rajasthan (India)
Hotel Madhuban,
D-237, Bihari Marg, Bani Park, Jaipur - 302016, Rajasthan (India)
Mahal Khandela,
D-219 B, Bhaskar Marg, Bani Park, Jaipur - 302016, Rajasthan (India)
Nahargarh Haveli,
B-4, Gopal Bari, Behind Corporate Park, Ajmer Road, Jaipur - 302001, Rajasthan (India)
Rani Mahal,
24, Lane 3rd, Nandpuri, Hawa Sadak, Jaipur - 302018, Rajasthan (India)
Hotel Tordi Haveli,
Plot No 32, Sector 6, Chitrakoot Scheme, Jaipur - 302004, Rajasthan (India)
Budget Hotels
Hotel Arch Inn,
C-11-12, Jalupura Link Road, Off M.I. Road, Jaipur - 302004, Rajasthan (India)
Arya Niwas,
Behind Amber Towers, S. C. Road, Jaipur - 302001, Rajasthan (India)
RTDC Hotel Gangaur,
Near Khasa Kothi, M. I. Road, Jaipur - 302001, Rajasthan (India)
Indiana Classic,
C 120, Janpath, Near New Vidhan Sabha, Jaipur - 302015, Rajasthan (India)
Jai Mangal Palace,
Opp. Bus Stand, Station Road, Jaipur - 302001, Rajasthan (India)
Jaipur Inn,
B-17, Shiv Marg, Bani Park, Jaipur - 302016, Rajasthan (India)
Hotel Shikha,
R-14, Yudhishthir Marg, C-Scheme, Jaipur - 302005, Rajasthan (India)
RTDC Hotel Swagatam,
Opp. Railway Station, Jaipur - 302001, Rajasthan (India)
RTDC Hotel Teej,
Sawai Jai Singh Highway, Bani Park, Jaipur - 302001, Rajasthan (India)
Hotel H.R. Palace,
D 157 A, Kabir Marg, Banipark, Jaipur - 302016 Rajasthan (India)