Jaipur is famous for its jewelry, leather items and handicrafts. Know what and where to buy in Jaipur.
Shopping In Jaipur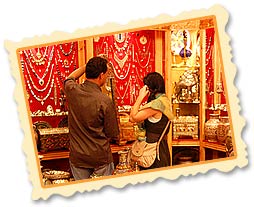 India is brimming with a rich cultural heritage. Jaipur is known as the Pink City and is also the capital of Rajasthan. Jaipur is a shoppers' elysium. You can find many different kinds of handicrafts, jewelry, fabrics and even carpets here. Jaipur represents the rich and vibrant lifestyle and tradition of Rajasthan. It offers the best traditional Rajasthani artwork and textiles from this city are world famous. They have different types of products like tie-n-dye and bandhej sarees, kurtas and dress materials. These products are most popular for their patterns and designs. Jaipur is also famous for its jewelry which is a beautiful combination of traditional and contemporary styles with Thewa and Kundan being the most popular. In Jaipur, there are a great many stores where you can find a lot of different things that cater to the authenticity and the flavors of Rajasthan. Jaipur is a vibrant and beautiful city, filled with bazaars which are hospitable to anyone.
Make sure that you have shopping on your list of things to do when you get to Jaipur. 'Haldiyon Ka Rasta', 'M.I Road', 'Bapu Bazar', 'Kishanpol Bazar', etc are some of the main bazaars in Jaipur. These are places where you can find some excellent fabrics and carpets. If you are looking for handicrafts, the marketplace is rich in variety as Jaipur is recognized as the crafts capital of India. For something different, Jaipur is famous for their camel leather also so don't forget to check out some of that also. And last, but not the least, a pair of 'jutis' or 'mojaris' from Jaipur would make your trip worth the while. Get one pair or a dozen; you will love it for sure. A trip to Jaipur is incomplete without shopping in this beautiful city! So make sure you factor in enough time for that as well.
Jaipur Fabric and Carpets
The magnificent city of Jaipur is famous for its vibrant and artistically woven fabrics and carpets. Since ages, this city has offered the best traditional designs, and the fabrics are the best in the world. The art of the colorful province of Rajasthan,
Jaipur Handicrafts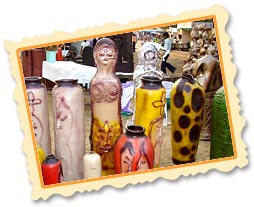 For all shopaholics, Jaipur is the perfect destination; a haven actually. The splendid city of Jaipur takes pride in its remarkable handiworks that preserve its ancient art and crafts, which are renowned worldwide.
Jaipur Camel Leather Items
Jaipur is famous for its leather craft industries. Camel leather items like bags, shoes, wallets and sandals have gained international fame for their elegance and designs. You will find the best quality camel leather products in Jaipur. They are available in a large number or designs and styles,
Jaipur Jewelry and Gems
Jaipur is a charming and attractive city, especially for those who love ancient heritage and exquisite jewelry. Jewelry is a very integral and inherent part of Rajasthani culture. To add to the lovely fabrics and vibrant colors, the jewelry here is contemporary, yet conventional.