Jaipur is known for its beautiful gardens. Find out information on various gardens in Jaipur.
Gardens In Jaipur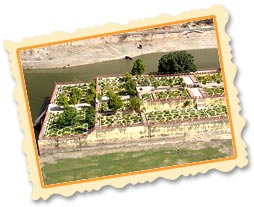 One might consider Jaipur, a city located near the Thar Desert, as barren but that is not the case. Jaipur, the Pink City, is not only famous for forts, temples and monuments but also for gardens which further enhance its value on the tourism map. Jaipur has plenty of gardens, both natural and artificial, and the government has taken ample measures to preserve it. When the Kachhwaha Rajput king, Maharaja Sawai Jai Singh II planned the city, he gave special importance to the gardens in the city. Most of the gardens were dedicated to the queens, as in the case of Sisodia Rani Ka Bagh which was constructed for his second wife. Other prominent gardens in the city are Kanak Vrindavan Valley and Vidyadhar Garden.
Sisodia Rani Ka Bagh, the largest garden in Jaipur, is known for its fountains, painted pavilions and trees. Located 6km away from the city, this beautiful garden was constructed in 1728 AD. Kanak Vrindavan Valley, another prominent garden of the city, is located on the Nahargarh Hills. This well-planned garden has a temple made of stone and marble. Vidyadhar Garden is another beautiful garden which is dedicated to Vidyadhar, the main architect of the city of Jaipur. Built even before the foundation for Jaipur was laid, this garden is known for temples, waterfalls, flower beds and ponds. Other gardens in Jaipur which are worth visiting are Ram Niwas Bagh, and Zoological Garden. The serene atmosphere and beautiful flower beds make these gardens most popular tourist spots in the city.
Kanak Vrindavan Valley
The Kanak Vrindavan Valley is an exotic place in Jaipur, and is located on the way to the Amer Fort. Nuzzled at the bottom of the Nahargarh hill, the garden complex is surrounded by popular tourist spots such as the Amer Palace, Jaigarh fort and blankets of lush greenery
Sisodia Rani Ka Bagh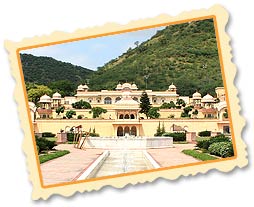 Sisodia Rani Ka Bagh is situated at a distance of 10 km from Jaipur city and lies on Jaipur-Agra highway. This royal garden was built by Maharaja Sawai Jai Singh in 1728 for his second queen Sisodia. Sisodia Rani Garden is adorned with beautiful wall paintings of Radha-Krishna love story.
Vidyadhar Garden
The Vidyadhar garden is a pristine garden located in the heart of Jaipur. One of Jaipur's best-preserved gardens, this picturesque garden is aesthetically designed and was built in the memory of Jaipur's chief Architect, Vidyadhar Bhattacharya.