The Vidyadhar Garden is a real treat for those wanting to relish the fusion of Hindu and Mughal architecture. Read on to know more about Vidyadhar garden in Jaipur.
Vidyadhar Garden Jaipur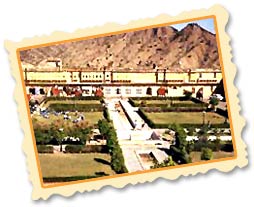 The Vidyadhar garden is a pristine garden located in the heart of Jaipur. One of Jaipur's best-preserved gardens, this picturesque garden is aesthetically designed and was built in the memory of Jaipur's chief Architect, Vidyadhar Bhattacharya. Apart from the crystal waters, the tranquil lakes, flower beds and well-maintained gardens, the Vidyadhar Garden has a lot to offer. Nestled in the lap of a popular valley in Jaipur, the garden offers a panoramic view of the city and is the pride of Jaipur's heavy heritage and culture. The garden was strategically built to the decrees of the ancient 'Shilpa Shasthra' and is situated close to the Sisodia gardens. The garden is the perfect amalgamation of contemporary Hindu and Mughal styles with its wonderful, sylvan lakes, terraced lawns, fountains and the majestic pavilions that house Lord Krishna's murals and paintings. Managed by the Government of Rajasthan, the Vidyadhar Garden is a vast expanse of imperial architecture and dazzling greenery.
History
The Vidyadhar garden is one of the best-preserved gardens in Jaipur and is also the pride of the city. The garden was built in the memory of Vidyadhar Bhattacharya, who was the architect of the 'Pink City' of Jaipur. As a chief architect to Maharaja Sawai Man Singh, the architect was known for his designs, elaborate architecture and the dexterity with which he could create visual wonders. The garden, built in 1988, was designed according to the ancient texts of the 'Shilpa Shastra', the ancient Indian line of architecture which Vidyadhar used while planning the city of Jaipur. The garden was believed to have been a vineyard, situated in the vicinity of the Sisodia gardens.
Architectural Layout
The Vidyadhar garden is home to beautiful fountains, tiers of terraced gardens, several galleries, royal pavilions and scenic lakes. Built according to the rules of the 'Shilpa Shastra', the Vidyadhar garden also displays ornate frescos with murals and images of Lord Krishna, and well-maintained flower beds. The walls are engraved with intricate lattice work, and mirror work in the temple and the architecture of the place reflects the casual mix of Mughal architecture, with typical Rajput-influenced interiors. The marriage between the two cultures clearly echoes off the landscape and the design of this garden. The garden is known for its numerous fountains, spontaneous peacock dancing, bird watching and the beautifully, terraced flowerbeds.
Nearby Tourist Attractions
Sisodia Gardens
City Palace
Jal Mahal
Jantar Mantar
The Vidyadhar Garden was constructed in the memory of Vidyadhar Bhattacharya. The garden is a popular tourist attraction and is a pleasant getaway for those seeking a peaceful escape. The garden is a picturesque attraction in the heart of Jaipur and it is a must-see destination for tourists in this city.