Jaipur International Airport in Rajasthan is linked with all the major cities of India. It is located in the southern suburb of Sanganer. Read on to know more about this airport in the Pink City.
Jaipur Airport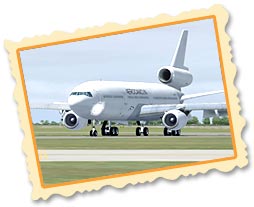 Jaipur is the largest city of Rajasthan, and is apparently the first planned city of India. Jaipur, built by Sawai Jai Singh, is a major tourist attraction. It attracts both national and international tourists in huge numbers each year. The tourist places in Jaipur are City Palace, Govind Dev Ji Temple, Vidhan Sabha, Birla Temple, and several massive Rajput forts. Referred to as 'Pink City', as the colour of the buildings was painted pink in trying to be like Mughal architecture, Jaipur experiences lot of footfall from within the country and abroad. So, the connecting medium is the airport in Jaipur. Jaipur Airport, also known as Sanganer Airport is situated about 7-10 km from Jaipur in the suburb of Sanganer. This being the only international airport in Rajasthan is well connected with all major cities of India. It started off as a domestic airport and was approved as the International airport on 29 December 2005 to facilitate direct flights from outside the country.
The accommodation capacity is such that it can house 14 A320 aircrafts. Its new terminal building can support passengers up to 1000 at a time. To welcome travelers from all over the world, the airport is beautified in an amazing manner. The entrance gate of the airport is made of sandstone and stones from Dholpur. The walls adorn eye-catching Rajasthani paintings, which even allow tourists to have a hint of Rajasthani culture and traditions. Also, the terminals are prettified by the queue of palm trees on both the sides along with fountains acting as icing on the cake. The trees not only add on to the beauty of the place but also help in maintaining the temperature within the airport premises. Jaipur airport has even come up with a wonderful way of utilizing natural resources and saving on electricity. The walls of the airport building are transparent and also have adjustable shades. These shades manage the passage of light in the airport building, helping in reduction of electricity bills. This eco-friendly way of conservation of energy is undoubtedly a fantastic method of decreasing wastage of electricity.
Jaipur airport is well connected to states like Delhi, Mumbai, Hyderabad, Udaipur, Bengaluru and Ahmedabad. The airlines that ply to and from here are Indian Airlines, Air Deccan, Jet Airways, Air Sahara, Go Air, Kingfisher Airlines, etc. Regular flights operate from to all these places from Jaipur Airport. To make your journey free of problems, Jaipur airport facilitates you with all the services of modern world like:
Wi-Fi facility
Lounges to relax till you board your flight
Gift/ souvenir shops
ATMs/Cash Machines
Car Rentals
Prepaid Taxi Service
Currency Exchange
Drinking Water with Disposable Glasses
Food/Dining
Information Desk
Luggage Storage
Lockers
Showers
Cold Drink Vending Machine
Illuminated Passenger Information & Guidance Signage
Free Local Calls Facilities
Child Care Room
Lost and Found Property Facility
General/ Premium Car Parking
Entertainment TV