Sisodia Rani Ka Bagh is a royal garden constructed by Maharaja Sawai Jai Singh for his queen. Check out for more information on Sisodia Rani Garden in Jaipur.
Sisodia Rani Ka Bagh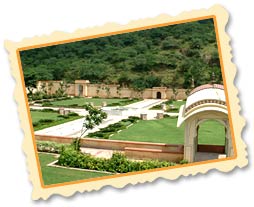 Sisodia Rani Ka Bagh is situated at a distance of 10 km from Jaipur city and lies on Jaipur-Agra highway. This royal garden was built by Maharaja Sawai Jai Singh in 1728 for his second queen Sisodia. Sisodia Rani Garden is adorned with beautiful wall paintings of Radha-Krishna love story. The paintings on the wall and the narrative details truly represent eternal love and befits the essence of this garden which itself is a symbol of love. This lush green royal garden is replete with flowerbeds, foliage, beautiful water fountains, pavilions, galleries, iridescent water channels and murals. It is said that in the olden days, the garden served as an ideal getaway for the Queen. Sisodia Rani Ka Bagh is multi-tiered and makes an interesting tourist spot. Additionally, the garden breathes life to the desert soil of Jaipur.
History Of Sisodia Rani Ka Bagh
Sisodia Rani Ka Bagh was built by Maharaja Sawai Jai Singh in 1728 for his second queen, a princess from Udaipur. The Maharaja presented this royal garden to his beloved queen to serve as a perfect retreat place for her. Away from hustle bustle of court politics, the garden offered a peaceful haven for Sisodia Rani. The garden is filled with various plant species, lush green shrubs and scented flowers. The walls are decorated with murals of Radha-Krishna, symbolizing the love that the Maharaja had for his beloved queen Sisodia.
Architectural Layout
The layout of this royal garden is a beautiful mix of traditional Indian designs and Mughal style. One can see traditional Indian designs, such as the use of pavilions and spires, in the garden. The walls are decked with beautiful paintings of the eternal lovers, Radha and Krishna. The flowerbeds, fountains and water channel running through the garden and merging at the centre are quite symbolic of Mughal style. There are natural springs and shrines dedicated to Lord Shiva, Vishnu and Hanuman in the vicinity of this royal garden.
Best Time To Visit
The best time to visit Sisodia Rani Ka Bagh is between July and March as this is when the state witnesses monsoons followed by winters which are ideal for a visit to Jaipur, known for its extreme climatic conditions.
Nearby Tourist Attractions
The other tourist attractions near Sisodia Rani Ka Bagh are Galtaji Temple, Statue Circle, Birla Temple, Govind Dev Ji Temple, Moti Dungri Ganesh Temple and Jauhari Bazaar.
How To Reach
Sisodia Rani Ka Bagh is well connected to Jaipur by roads and can be reached by local buses that ply from Jaipur to Sisodia Rani Ka Bagh. You can also hire taxi or cab service from Jaipur to reach Sisodia Rani Ka Bagh.
Sisodia Rani Ka Bagh is one of the most favorite tourist destinations in Jaipur city. Here, one can discover a tranquil atmosphere and pavilions adorned with romantic murals of Radha and Krishna. The garden, which was once known as sanctum of Queen Sisodia, can today be enjoyed by everybody who visits it.