Galtaji temple is dedicated to Sun God and is famous for its natural water springs.
Galtaji Temple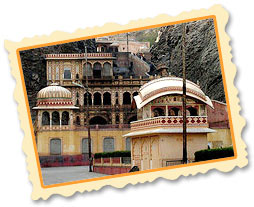 A pre-historic Hindu pilgrimage site, the Galtaji Temple, is located only 10km away from Jaipur. One of the jewels of Jaipur, the temple complex encompasses natural fresh water springs and 7 holy 'kunds' or water tanks. Among these kunds, the 'Galta Kund', is the holiest one and is believed to never get dry. A spring of pure water flows from the 'Gaumukh', a rock shaped like a cow's head, into the tanks. A spectacular structure, this magnificent temple is built in pink sandstone, amidst low hills, and is structured to look more like a palace or 'haveli' than a traditional temple. The Galta Monkey Temple has a back-drop of gorgeous landscape featuring lush green vegetation, and offers a fascinating view of the city of Jaipur. This temple is famous for the many tribes of monkeys that dwell in this area. The religious hymns and chants, combined with the natural setting, provide a peaceful ambience for anyone who visits there.
History
Diwan Rao Kriparam, an attendant to Sawai Jai Singh II, in the 18th Century, built the Galtaji Temple.
Legends
It is believed that, Saint Galav spent all his life here and performed his 'tapasya' for 100 years. Pleased with his penance, the Gods appeared before him and blessed his place of worship with abundant water. To honour this great 'rishi', a temple was built here and it was named after him. Taking a dip in the natural springs of Galtaji is considered very auspicious and is said to cleanse a person of his sins.
Layout Of The Temple
The Galtaji Temple is located in the Aravalli hills and is bounded by dense trees and bushes. This impressive building is ornamented by painted walls, adorned by rounded roofs and pillars. Apart from the kunds, there are temples of Lord Ram, Lord Krishna and Lord Hanuman situated within the temple complex.
Best Time To Visit
Every year in mid-January, on 'Makar Sankranti', a large crowd of visitors come here to take a dip in the holy kund. Sunset is the best time to visit this gracious temple because, at this time, you can witness a large family of monkeys flocking towards the temple tank, for a bath. The visiting hours for this temple are from sunrise to sunset.
Nearby Tourist Attractions
You can also visit the Krishna Temple, Surya Temple, Balaji Temple and the Sita Ram Temple, situated very near to the Galtaji Temple. Another tourist attraction near this temple is the Sisodia Rani Ka Bagh, which is a magnificent palace and garden.
A reminder of the regality of Rajasthan, the Galtaji Temple has a splendid architecture and is enclosed in natural scenic beauty. This temple, located in a mystical place, is a pleasure for all tourists. The sacred shrine, surrounded by a clan of monkeys, makes this place, eye-catching and interesting, for nature lovers and photographers.