Statue Circle is a memorial built to pay tribute to the founder of Jaipur city, Maharaja Sawai Jai Singh II..
Statue Circle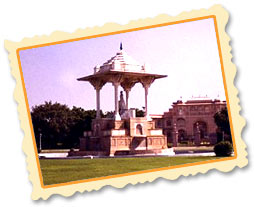 Jaipur city offers a number of interesting tourist spots and one among them is the famous Statue Circle. Located at a busy traffic junction, the Statue Circle in Jaipur city has been a central place through which almost half of the city's population passes while navigating through this Pink City. Statue Circle is a popular hang-out spot in Jaipur and the most famous circle known in the Pink City. The lovely ambience of this famous circle offers a perfect place to hang around and enjoy the pleasant breeze of the evening air. Its brilliant lightings and dazzling fountains add up to the liveliness and vibrancy of the place. There are numbers of rich local delicacies and spicy snacks which are served by the vendors here. Besides being a famous tourist and picnic spot, the Statue Circle also serves as a favorite place for evening walkers, morning joggers, etc.
History Of Statue Circle
Situated in the middle of a busy intersecting road of the pink city, Statue Circle is reminiscent of the rich history of Jaipur. It was built as a tribute to Maharaja Sawai Jai Singh II, the founder of the city. Statue Circle perhaps got its name from the statue that it comprises of and also the spot at which statue is located. It attracts a large number of foreign tourists as well as the locals. The tourists come to see this place for its historic significance and to get a glimpse of the statue of Maharaja Sawai Jai Singh II.
Architectural Layout
Statue Circle encompasses a life size statue of Maharaja Sawai Jai Singh II, made of white marble. As the Maharaja was known to be an ardent lover of astrology, the statue circle illustrates the king holding an astrological diagram. This memorial is beautifully decorated with brilliant lightings and multi-colored fountains which illuminate the place in the evenings. The beautiful fountain at the Statue Circle is a delightful sight which makes an everlasting impression on the minds of visitors and compels them to pay a visit over and over again.
Nearby Tourist Attractions
The other tourist attractions nearby Statue Circle are Birla Temple, Galtaji Temple, Govind Dev Ji Temple, Moti Dungri Ganesh Temple, Jauhari Bazaar, Bapu Bazaar and Nehru Bazaar.
Statue Circle is a perfect combination of Jaipur's imperial past and its modern turn of events. This is what makes it a great tourist place and, at the same time, a wonderful picnic spot for the locals. So, don't forget to include Statue Circle in your Jaipur tour itinerary list. It is sure to charm and enliven your spirit during your Jaipur tour.