The festival of Teej is dedicated to Lord Shiva and Parvati. Information on signification, rituals and celebration of Teej festival.
Teej Festival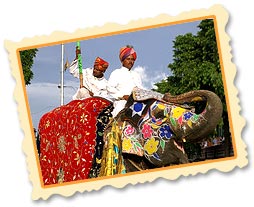 Jaipur, the land that is always covered with the colours of fairs and festivals, enchants whoever experiences the glory of fests. Festival of every religion is celebrated with similar passion and beauty, be it welcoming or bidding farewell to a season, praying for a healthy life of the spouse or any other occasion for that matter. Each of these festivals holds significant position in the lives of people of Jaipur. One can not only feel the liveliness of people during these festivals, but can even witness the rich culture of Rajasthan. And one such festival is Teej, which falls in the monsoon months of July-August. On this occasion, married women pray to Lord Shiva and Parvati to bless them with happy and long married life. Celebrated in and around Rajasthan this festival of swings welcomes monsoon. The swings are decked with flowers and hung from trees, women dressed in green clothes make merry and sing songs. This festival that symbolises growth continues for two days, women observe fasts for the long life of their husbands and men pray for good rain and crop.
Significance
According to mythology, it was the day when Goddess Parvati reunited with Lord Shiva after a long separation. It is said that whoever worships Parvati on this day, is fortunate enough to get his/her desires fulfilled by her blessings.
Rituals And Celebrations
On this day parents of married women send Sinjara to their daughters, which is a gift pack that includes bindi, vermilion, mehandi or henna, bangles, ghevar (a special Rajasthani sweet) and lahariya (a multi-coloured sari) as a symbol of their covertures. After accepting those gifts sent by her parents, the married ladies adorn themselves with henna, jewels, wear lahariya sari and take delight in the celebrations of this auspicious festival of Teej. Fairs are conducted on this festival; processions are taken out from Tripolia gate of this Pink City Jaipur. Passing through various markets, it ends at Chaugan Stadium. The idol of Goddess Teej (incarnation of Goddess Parvati) is decorated by the royal families of Jaipur, for the fair. Convoy of beautified elephants, horses and camels are made to walk before Goddess Teej's palanquin made of gold and silver. Various folk dances are performed to the tunes of folk songs during this rally.