Kite Festival of Jaipur is celebrated on 14th January. On this day, colourful kites are flown over the pink city. Devotees even take a dip into the holy water of Galtaji tank in Jaipur.
Kite Festival Jaipur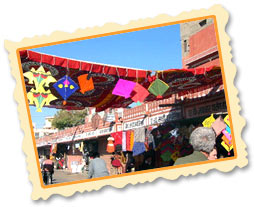 Jaipur is the land of fairs and festivals. Always dipped in the colours of festival, this place enchants anyone who experiences the glory of fests. Festival of every religion is celebrated with same zeal and gusto. Each festival has its importance, be it welcoming a season, bidding adieu to a season, wishing long life and good health of the spouse, praise the Lord, worship trees and animals in the form of God. These festivals are integral part of the lives of people of Jaipur. One can not only feel the liveliness of people during these festivals, but can even get a wide exposure of culture of Rajasthan. These fairs and festival offer you with a holistic view of the heritage and art of Rajasthan. A prominent one out of the festivals of Rajasthan is the Kite Festival. Certainly, it's a festival that is unique in its own way. The colourful kites hovering over whole of Rajasthan brighten up the skies. This festival is largely celebrated in Jaipur and Jodhpur. The kites-with-lights flown add to the fancy of the festival. If you like kite flying, this is the festival for you. How about visiting Jaipur during this festival? Know more about this festival before you catch up with the delight of this festival in Jaipur.
Significance
Kite festival of Jaipur is observed on the day of Makar Sankranti or Uttarayan. Celebrated on 14th of January to mark the transition of the sun from dhanu rashi (Sagittarius) to makara rashi (Capricorn), the day is considered auspicious. It is said that Uttarayan or northward journey of the sun begins on the day of Makar Sankranti.
Rituals And Celebrations
The people of Jaipur, on this day take a holy dip in Galtaji, an important pilgrimage in Jaipur. They pray to sun god to bless them with good health, wealth and good crop. On this occasion, the pink city turns all colourful with the beautiful kites in the sky. Makar Sankranti is a government holiday in Jaipur, and it undoubtedly increases the pleasure of the festivities. Shopkeepers keep their shops shut, banks remain closed and everybody gets engrossed in kite flying on this day. Various kite flying competitions are also organised by numerous Kite Clubs in the month of January. State government even organises "International Kite Festival" in Jaipur for a stretch of three days wherein kite lovers from all over the world come and participate.
Food
The people of Jaipur celebrate this festival of Makar Sankranti with various sugary delights made of sesame seeds i.e. Til Ke Laddu, Gajak (famous Jaipur's Sesame Brittle), and Feeni (famous Jaipur sweet made of fibres).