Karauli is a heritage town located about 160 km away from Jaipur. Have a look at the history and highlights of Karauli.
Karauli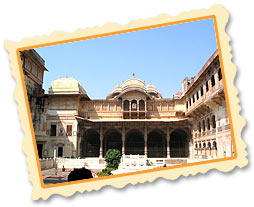 Karauli, former capital of the erstwhile Karauli state (princely state), is a small town in the Indian state of Rajasthan. The city has around 300 temples and is hence, regarded as one of the holiest cities of the state. The city, which is located about 150 km from Jaipur, was founded by Maharaja Arjun Dev Yadav in 1348 AD. Legend has it that the Jadaun Rajputs who ruled Karauli were descendants of Lord Krishna. Karauli was formerly known as Kalyanpuri, named after the deity Kalyanji. The city is protected by a red sandstone wall constructed all around it. The wall has gateways at strategic positions, which aided protection from the approaching enemies in olden days. The wall, though depleted at some spots, still remains intact. Karauli is famous for its pale red stones and monuments like the Kaila Devi temple, Madan Mohanji temple and many other historic structures. Read the following section to know more about Karauli.
Legend
The heritage town of Karauli is associated with many legends. It is a popular belief that the princely state of Karauli was founded by Yaduvanshi Rajput Bijai Pal around 995 AD. It is believed that he was 88th generation of the Hindu deity, Lord Krishna. Little is however known about the early history of the family.
History
Officially, the town of Karauli was founded in 1348 by another Yaduvanshi Rajput, Maharaja Arjun Dev Yadav. The town was strategically located to ensure natural defense. To the north and east of the town are ravines while a huge wall was built on all other sides, to protect it from charging armies. Karauli is associated with many historical happenings. The main village in Karauli is called Mandrail. This village is famous for the battle of Mandrail which was fought by Raja Puranmal, the king of Amer, in 1534 AD. At the time when India became independent in 1947, Karauli was under the rule of Maharaja Ganesh Pal Deo. Later, this town merged with the union of India and became part of Indian state of Rajasthan.
Highlights
Karauli is known for its pale red-stones. This heritage town is home to some very memorable monuments like Kaila Devi temple, Madan Mohanji temple, palaces, forts and other historic structures. The Mahavir Jain temple in Karauli is revered by the Jains all over the world. The Kaila Devi Sancturary, which is an extension of the Ranthambore National Park, is located very close to Karauli. This heritage town is also famous its colorful festivals and fairs.
How To Reach
By Road: Karauli is located about 160 km away from Jaipur and you may avail public/private buses or local taxis to reach here. By Rail: The nearest railway stations near Karauli are Piloda Railway Station (38.3 km) and Khandip Railway Station (40.0 km). Regular bus and cab services are available here as well.
By Air:
Nearest airports to this town are the Kheria Airport, Agra (127 km) and Jaipur Sanganer Airport (160 km).
Best Time To Visit
Summer is not a good time to visit Karauli. The best time to visit this heritage town is fromOctober to March.
Visiting a heritage town is always a pleasurable and educating experience. Heritage towns like Karauli have many a thing to tell you, especially, about ancient Indian culture.