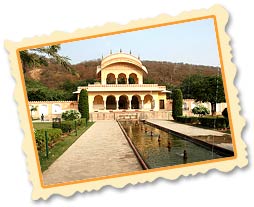 The Kanak Vrindavan Valley is an exotic place in Jaipur, and is located on the way to the Amer Fort. Nuzzled at the bottom of the Nahargarh hill, the garden complex is surrounded by popular tourist spots such as the Amer Palace, Jaigarh fort and blankets of lush greenery. History states that the garden was given its name by Maharaja Sawai Jai Singh, approximately 280 years ago, when the complex was built. The term 'Vrindavan' was coined because the garden resembled the descriptions of a mythological place, where Lord Krishna is believed to have resided. The garden is often compared to the valley of 'Vrindavan' and the king, subsequently, consecrated an idol of Lord Krishna in a special complex in the Kanak Vrindavan valley called the 'Shri Govind Deoji' complex. The garden encompasses a temple, a series of fountains and intricate marble workmanship. Managed by the Government of Rajasthan, the Kanak Vrindavan Valley is the ideal tourist destination for those wanting to relish the beautiful, green scenery, and the magnificent structures of a bygone era.
History
The Kanak Vrindavan Valley was built approximately 280 years ago by Maharaja Sawai Jai Singh of Jaipur. The beautiful, green valley is encircled by the Aravalli hills and is said to resemble mythological Vrindavan; the abode of Lord Krishna and the place where he frolicked with his Gopis. The Kanak Vrindavan Valley was built for recreational purposes by the king. It is also believed to be a sacred spot where the waters from several important rivers merged to carry out the holy 'Ashwamedh Yagna'. The Govind Deoji temple was built around the same time, and is believed to house the incarnation of Lord Krishna.
Layout/Specialty
The Kanak Vrindavan Valley is a picturesque spot located at the foot of the Nahargarh hills, and is flanked by unique trees. Apart from the blankets of trees and lawns, the Kanak Vrindavan Valley is, in fact, a beautiful garden flanked with intricate 'chhatris', exquisite mirror and 'jali' work on the walls of the Govind Deoji temple, and a series of fountains. The garden is divided into eight sections, and is famous for a fountain called 'Parikrama', which is carved out of a single slab of marble. This workmanship from a bygone epoch and the dexterity of the artwork surrounding the garden is what adds to the beauty of the place. The 'Garba Griha' ('seat of the lord') is also placed inside the temple complex and is etched with delicate 'panni' work. The evergreen gardens at the Kanak Vrindavan Valley offer a stupendous view of Jaipur and other nearby attractions such as Amer Fort and the Dharbawati River. The breathtaking scenery has often been used as a background for many Bollywood films in India.
Nearby Tourist Attractions