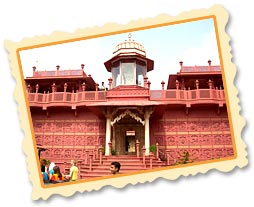 Sanganer is a small township situated approximately 16 kilometers away from Jaipur, the capital of Rajasthan. Known for its famous handmade paper industry and the textile printing industry, Sanganer is very famous for Jain pilgrimage services. The handmade paper industry is famous all over the country, and is known to manufacture supreme quality handmade paper. Floral and block prints are also a specialty with the Sanganer block printers and artisans. The idea behind the handmade paper industry was initiated by Maharaja Sawai Jai Singh II in 1728. Apart from the flourishing industries, Sanganer is also known for its medieval ruins and primeval temples that are deeply rooted in the culture and heritage of the settlement. Some of the main tourist attractions at Sanganer are the Jain temples—the most prominent one being the 'Shri Digambar Jain Temple', the paper and print industries, and the remnants of a bygone, regal era. The Jaipur Airport is also located in Sanganer.
History
Located on Tonk Road, Sanganer is 16 kilometers from Jaipur and dates back to the early 18th century. Sanganeri prints and the hand-crafted paper industry dates back to over 300 years, to the reign of Maharaja Sawai Jai Singh II. One of the prominent historical districts in Jaipur, Sanganer is a central hub for industrial practices involving the manufacture of paper and blocks prints since time immemorial. Initially, the town encircled many small palaces and royal courts, most of which are reduced to gravel and dust today. The remnants of these palatial enigmas and the archaic Jain temple structures are the popular tourist destinations and are frequented by domestic and international vacationers.
The Highlights Of The Place
The town of Sanganer is well known for the handmade paper industry and the Jain temples. The prints manufactured at Sanganer are also extremely popular and are unique in design. Floral, bold and block prints with bright patterns on a white background are the typical USPs of this settlement. At present, there are about 10 paper industries in Sanganer and countless Jain temples. One of the most prominent Jain temples here is the 'Shri Digambar Jain Temple' that resembles the Dilwara Temple structure at Mount Abu. The sky-high structure, complete with an ornate inner chamber, 'shikhars' (spires), intricate designs and a Parshwanath shrine protected by 7 serpent hoods, are the highlights of this temple. Apart from the temples, the ruins of archaic palaces and frequent excursions to Hindu temples are also the highlights of the town.
How To Reach